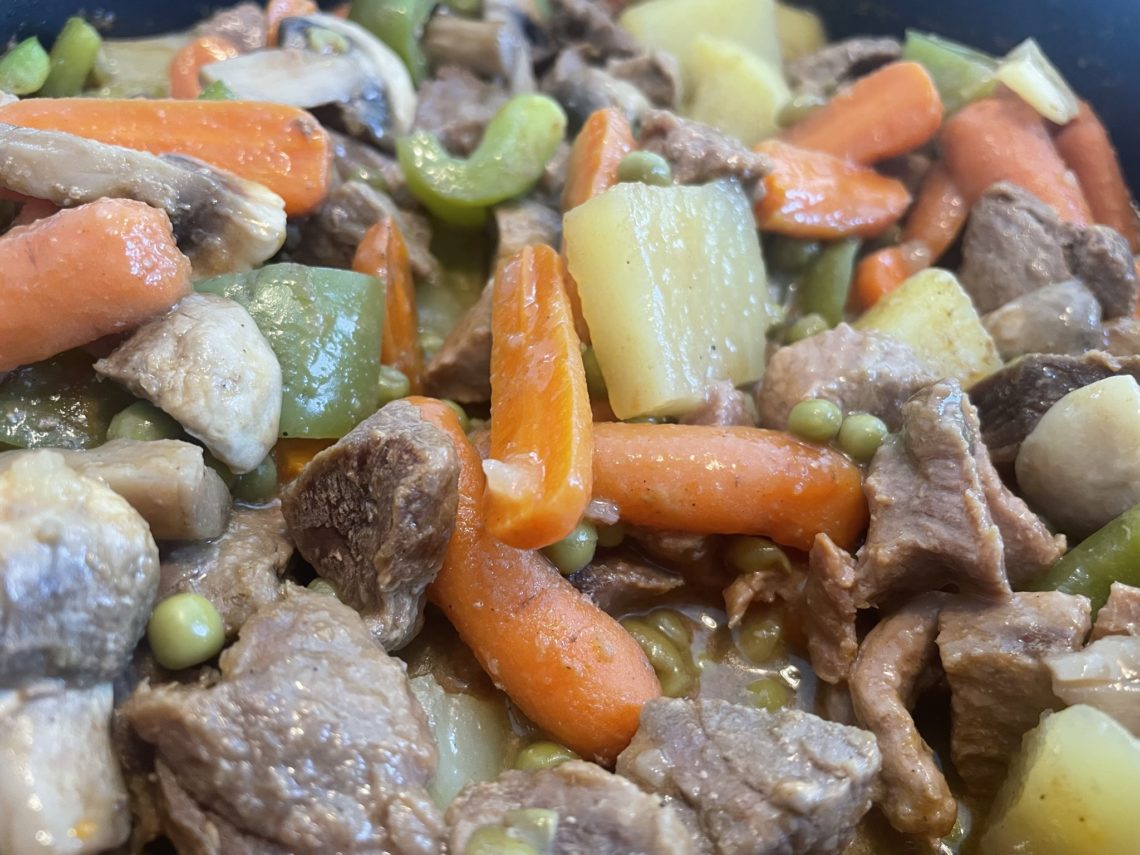 Easy Yummy Caldereta for Busy People
Caldereta is a delicious Filipino stew frequently served at parties and on special occasions —although I personally like serving it at least once a month! It's a hearty dish that will keep you warm on a chilly day. Goat or beef are usually used as meat, although chicken or pork can also be used (I personally prefer beef). It is prepared with veggies, liver spread, and a tomato-based sauce, which gives it a distinct flavor and aroma. Caldereta is a filling dish that everyone will enjoy when paired with steaming rice (like we normally do) or crusty bread, should you prefer.
You will find, over the Internet, a lot of recipes that will satisfy more traditional cooks. As for me, given my limited amount of time to tend to the home, I use a neat tiny trick for lazy and easy cooking called Mama Sita's caldereta mix. The dish takes two hours to cook because I put the stew on simmer to soften the beef, but the preparation time is rather quick.
Here's my quick and efficient version of caldereta. I also have tips to make sure the vegetables do not end up. As for the ingredients, I also rarely ever make exact measurements, as I adjust it based on how the dish looks like and how my family prefers it, so the amounts below are estimates. Nonetheless, I hope you find it useful!
Easy Yummy Caldereta for Busy People
Course: Lunch, Dinner
Difficulty: Easy
Caldereta is a Filipino stew, made with your choice of meat (I use beef here) and commonly with carrots, potatoes, and peas (I also add mushrooms). This version is an easy way to make it, as I simply use the ever reliable Mama Sita's caldereta mix, which should be available in your local Asian grocery.
Ingredients
Beef stewing cubes (1 kg)

1 Mama Sita's Caldereta Mix

1-2 medium potatoes (or 2 cups of cubed potatoes)

1-2 carrots (or 2 cups of cut carrots)

1 green bell pepper

220 g mushrooms

1 cup frozen peas
Directions
Prepare the beef and broth. Cut the beef into 1- to 2-inch cubes (if purchased in larger cuts). Place it in a pot with enough water so that the meat is submerged completely by at least an inch. Set it to boil. Once it boils, leave it to simmer at medium heat for 60-90 minutes until the beef is tender. Make sure there is always enough water to stew the meat.
Prepare the vegetables. While waiting for the beef to be tender, you can prepare the vegetables. Peel the potatoes and cut into 1-inch cubes. Do the same for carrots (unless you're using prepackaged baby carrots, in which case I would cut in half lengthwise). Deseed the bell pepper and cut into 1-inch cubes. Quarter the fresh mushrooms.
Add ingredients in the correct order so that the vegetables are not mushy. Once the beef is tender, add the Mama Sita's caldereta mix. Stir completely. Also add the carrots and potatoes first and cook for another 10-15 minutes until cooked (but not mushy). Add the mushrooms and cook for another 5 minutes. Afterwards, add the bell peppers and frozen (or canned) green peas and cook for another 3 minutes.
It is done! Turn off the stove, and let the stew rest for 5 minutes before serving, ideally with rice. Enjoy!
Notes
Ratio of vegetables to meat is best done according to your liking. For example, my family prefers more carrots, so we use less potatoes, especially since we eat this with rice.
This is best served with rice.
Storage: It can keep for 3 days in the refrigerator in an airtight container. This is also a great freezer meal; simply portion into a freezer-safe container (ideally glass) and thaw when needed. It should keep for 3 months in a freezer.