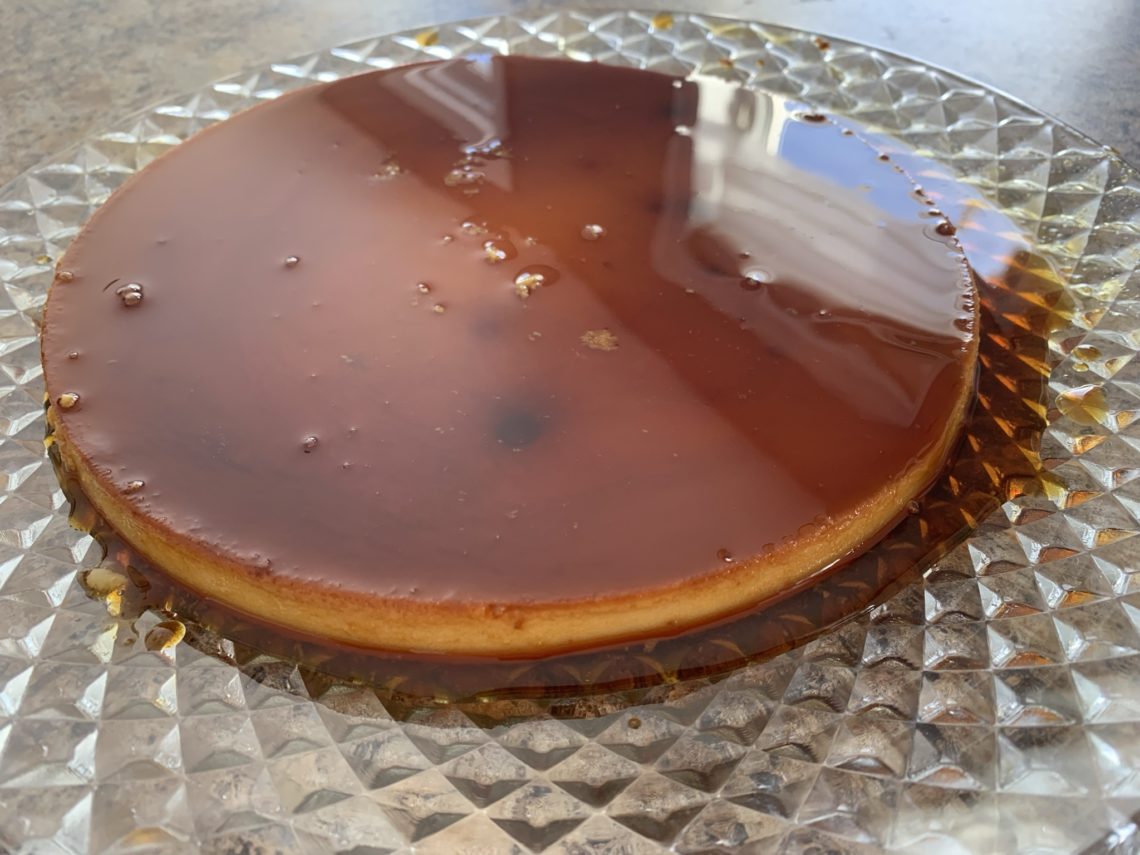 Filipino Leche Flan (Custard with Caramelized Syrup)
Leche flan is one of my favorite desserts, Filipino or otherwise. The contrast between the slightly bitter caramel and mildly sweet custard is a delightful way to conclude a meal. I have tried making leche flan, with no success, many times in the past, but through this have I also optimized an amazing recipe given my specific oven and pan.
This brings me to my next point: recipes will always have to be optimized according to what you have. Ingredients, oven, state of the oven, pan… Even when I look up recipes myself, it's mostly to get the gist of what I need to do, and I play around with cooking and baking from there.
This recipe, I find, is best mixed with my Thermomix (TM 6). I know not everyone has a Thermomix, but any high-speed blender should do.
Without further ado, here is my recipe for the traditional leche flan that my family has always enjoyed.
Leche Flan (Custard with Caramelized Syrup)
Course: Dessert
Cuisine: Philippine
Difficulty: Easy
Leche flan is a decadent Filipino dessert made of custard and topped with caramel syrup. With this quick prep time and uninvolved cooking, you will enjoy making this treat for friends and family (or yourself)!

Note: This recipe uses a sauce pan for making caramel syrup and a steamer to cook the flan. I have tried baking in a water bath and have found this either too tedious or my oven unreliable. In addition, I do not prefer microwaving the sugar to make caramel, as it's difficult to monitor it to my satisfaction. Below are the methods that are efficient and have always worked for me. I hope they also work for you!
EQUIPMENT AND Ingredients
Equipment

Sauce pan

1 8-inch round pan(s)

Thermomix 6 or high-speed blender

Steamer

Strainer

Caramelized syrup

1/2 cup white sugar

1/4 cup water

Flan

1 can condensed milk (300 mL)

1 can evaporated milk (354 mL)

6 egg yolks (or 4 egg yolks and 2 whole eggs)

1 teaspoon vanilla extract
Directions
Caramel Syrup
Add 1/2 cup of white sugar and 1/4 cup water to a sauce pan. Dissolve with mixing and over medium heat.
Monitor until the sugar turns brown. The darker the sugar is, the more bitter it will be. Optimize browning to your preference.
Quickly transfer the syrup into the 8-inch round pan, and swirl it around to coat the bottom surface evenly. Let sit for a few minutes until it cools and hardens.
Flan
Boil water in a steamer, and then turn the heat down so that the water is on a low simmer. This is very important, as too high a temperature will boil the flan mixture and will result in a flan that is not smooth.
Mix all ingredients in a high-speed blender. If you are using a Thermomix, I mix it at speed 10 for 7 seconds.
Let the mixture rest to remove air bubbles, and then strain it over a second bowl. Gently pour the strained mixture into the the round pan with the caramel.
Cover the round pan with aluminum foil.
Place the round pan in the prepared steamer, and cook for 30-60 minutes. The cook time depends on the material of your round pan, the temperature of your steamer, and the volume of custard.
Remove the aluminum foil cover to check if the flan is done. The flan is cooked when the middle part jiggles slightly.
When cooked, remove the flan from the steamer and let it rest. Cool in the fridge for at least 4 hours.
Serving Directions
Run a flat silicon spatula around the edges of a flan.
Invert the round pan quickly on a plate that is large enough to contain both the flan and the syrup.
Slice the flan and serve. Enjoy!
Notes
YOLKS OR WHOLE EGGS: I have tried both versions, and they work beautifully. Using whole eggs will result in less creamy version, but I do like to think there's extra protein in there.
BLENDING AND STRAINING: I found that straining once, especially since the mixture has been blended beautifully by my Thermomix 6, is sufficient to have a smooth flan. The secret is more in the slow cooking.
COOKING TIME: For quicker cooking times, what I have done is split this batch into 2 round 8-inch pans. I did have to make extra caramel syrup to cover the second pan. The flan will also be thinner. But this way, I could cook each round pan for around 30 mins.
STORAGE: The leche flan should be good up to 3 days in the fridge. Unfortunately, I have never tried it frozen and so I'm not sure if it can be frozen. I don't think you will have a lot of leftovers, though. 🙂